The Americas' Fastest Growing Companies 2023
In Partnership with the Financial Times, Statista identified The Americas' Fastest Growing Companies. The fourth annual list ranks the 500 American companies with the strongest revenue growth between 2018 and 2021.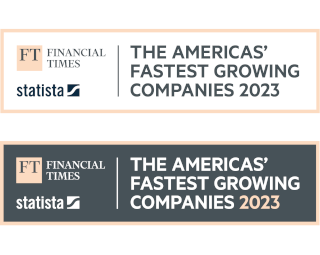 List of The Americas' Fastest Growing Companies 2023
Project registration
Companies that are interested in participating in next year's ranking can register below to be notified when applications open.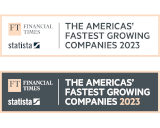 Did your company make the list?
The "Winner's Portal" for award-winning companies offers a unique overview of the use of the official Growth Champion certificate as well as the terms and conditions and a personal contact.
The Americas' Fastest Growing Companies ranking is a list of the Top 500 companies in the Americas that have achieved the highest percentage growth in revenues between 2018 and 2021. The annual high-profile list compiled by Statista and the Financial Times is a visible and public acknowledgement of fast-growing companies in the Americas which is published online and as a supplement within the weekday edition of the FT newspaper.
Minimum CAGR to be included
10,42%
Calculation of growth rates
The calculation of company growth rates is based on the revenue figures submitted by the companies in the respective national currency. For better comparability in the ranking the revenue figures were concerned into US dollars. The average rate for the financial year indicated by the company was used for this purpose.
The compound annual growth rate (CAGR) was calculated as follows:

A detailed report on our methodology for The Americas' Fastest Growing Companies 2023 is available.
The Financial Times is one of the world's leading business news organizations, recognized internationally for its authority, integrity and accuracy. It is part of Nikkei Inc., which provides a broad range of information, news and services for the global business community.