Malaysia's Growth Champions 2023
The Star and Statista have identified Malaysia's Fastest-Growing Companies 2023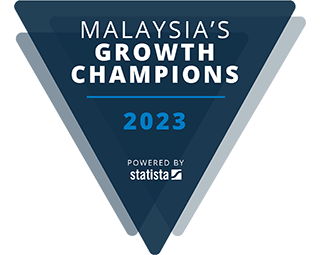 List of Malaysia's Growth Champions 2023
Malaysia's Fastest-Growing Companies 2023 is a list of the Top 10 companies based in Malaysia that have achieved the highest growth rate in revenues between 2018 and 2021. The annual high-profile list compiled by Statista and The Star is a visible and public acknowledgement of fast-growing companies in Malaysia, which is published online.
Minimum CAGR to be included
10.6%
Calculation of growth rates
The calculation of company growth rates is based on the revenue figures submitted by the companies in the respective currency.
The compound annual growth rate (CAGR) was calculated as follows:

Since its launch on June 23, 1995, as Malaysia's first news website, The Star Online has always striven to provide readers with up to date breaking news, compelling content and insightful opinions. Evolving with the times, the content includes current news, business, sports, community, tech, lifestyle and world news, as well as expert analysis and dynamic videos. The website was recognised in 2014 as one of the best in Asia by the World Association of Newspapers and News Publishers (WAN-IFRA). It serves as the foundation of an online communaity that has a million strong following on both Twitter and Facebook. As the digital companion to The Star newspaper, The Star Online is part of a portfolio that offers content through print, The Star ePaper and a mobile app.
Recognizing the Best
Statista R is dedicated to finding and recognizing the best in class with its independent approach to data collection and evaluation. Whether employer brands, law firms, management consultancies, e-commerce or products - each of our market analyses, rankings, top lists and ratings are produced completely independently and with sound methodology.