Philippines' Growth Champions 2023
In partnership with the Philippine Daily Inquirer, Statista identified The Philippines' fastest-growing companies. The list ranks the 25 Filipino companies with the strongest revenue growth between 2018 and 2021.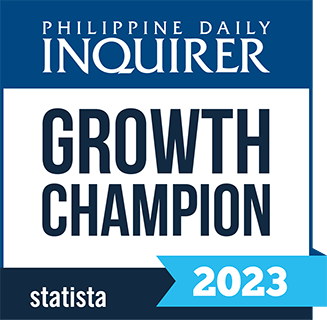 List of Philippines' Growth Champions 2023
The Philippines' Growth Champions 2023 is a list of the Top 25 companies based in the Philippines that have achieved the highest growth rate in revenues between 2018 and 2021. The high-profile list compiled by Statista and the Philippine Daily Inquirer is a visible and public acknowledgement of fast-growing companies in the Philippines, which is published online.*
*Due to a technical error, Penbrothers were not included in the original ranking. Their rightful rank would have been fourth, which has been amended in the latest version of the ranking.
Minimum CAGR to be included
6.3%
Calculation of growth rates
The calculation of company growth rates is based on the revenue figures submitted by the companies in the respective currency.
The compound annual growth rate (CAGR) was calculated as follows:

For more than 30 years, the Inquirer has been at the forefront of setting the agenda by chronicling everyday events with much ardour and enthusiasm. These same virtues propelled the Inquirer to greater heights and elevated discussions on pressing issues in the society to a whole new level. With an end in mind to spark change in the society, it ask questions nobody else would ask, which leads to call for action. Through this, Inquirer aims to inspire every Filipino people to become its own leader.

Recognizing the Best
Statista R is dedicated to finding and recognizing the best in class with its independent approach to data collection and evaluation. Whether employer brands, law firms, management consultancies, e-commerce or products - each of our market analyses, rankings, top lists and ratings are produced completely independently and with sound methodology.