World's Best Specialized Hospitals 2024
Based on a worldwide online survey of tens of thousands of medical professionals, existing accreditations and certifications, and a PROMs implementation survey, the leading hospitals worldwide in 12 medical fields were awarded for the fourth time in cooperation with Newsweek. The 12 medical fields are: Cardiology, cardiac surgery, oncology, endocrinology, neurology, neurosurgery, orthopedics, gastroenterology, pulmonology, pediatrics, urology and (for the first time) obstetrics & gynecology. Additionally, participants had the opportunity to name a standout specialty for the list of pediatrics.*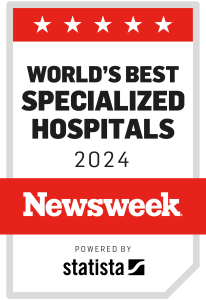 World's Best Specialized Hospitals 2024
– The standout specialties for pediatrics were: Cardiology, Cardiac Surgery, Endocrinology, Gastroenterology, Neonatology, Neurology, Neurosurgery, Oncology, Orthopedics, and Urology.
– Obstetrics & Gynecology: Only the top 50 entries are ranked. From listing 51 on all entries are sorted alphabetically.
✓ Hospital participated in the PROMs implementation survey
– Hospitals that cooperate with Cancer Centers and/or Cardiac Centers for the specialities of Oncology, Cardiology and Cardiac Surgery have the names displayed with said centers on Newsweek.com
Want to be part of our surveys?
Statista PROMs implementation survey
To account for the increasing importance of value-based care in healthcare systems worldwide, Statista is surveying hospitals regarding their Patient-Reported Outcome Measures (PROMs) implementation status. PROMs are defined as standardized, validated questionnaires completed by patients to measure their perception of their functional well-being and quality of life related to an episode or experience of care.
Newsweek and Statista recognize the importance of this topic for global advancements in health care delivery and, together with the guidance of Statista's global board of medical experts, have developed a survey about the implementation and use of PROMs across different specialties and departments in hospitals. The implementation of PROMs adds a patient-outcome focused dimension and improves the comprehensiveness of the rankings.
The current survey period for the PROMs implementation survey is open from October 16, 2023 to December 18, 2023 for participation here. The responses from the survey will be taken into account for all hospital rankings in 2024.
Registration is available here:
Healthcare Rankings - Registration for Peer-to-Peer Surveys
If you are a healthcare professional and want to be part of future survey cycles of our peer-to-peer survey, feel free to register here: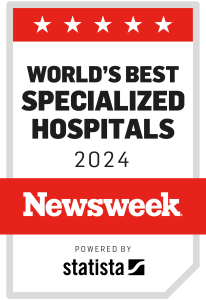 Is your hospital not in the rating?
The "Winner's Portal" for award-winning companies offers a unique overview of the use of the official employer certificate as well as the terms and conditions and a personal contact.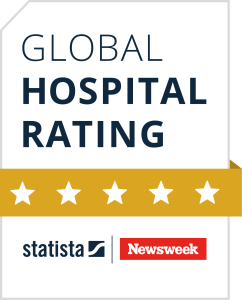 Interested in more excellent hospitals?
The Global Hospital rating is a voluntary rating system where hospitals can apply to get evaluated against established quality criteria.
The ranking for World's Best Specialized Hospitals 2024 is based on a worldwide online survey of tens of thousands medical professionals as well as accreditation and certification data. The ranking features the top 300 hospitals for cardiology and oncology, the top 250 for pediatrics, the top 150 for cardiac surgery, endocrinology, and gastroenterology, the top 125 for neurology, neurosurgery, orthopedics, pulmonology, and urology, and the top 100 for obstetrics & gynecology. Hospitals that specialize in more than one medical field received specific recommendation scores for each medical field based on the respective recommendations. Therefore, one hospital can be represented in more than one list if it receives enough recommendations in each medical field. Furthermore, this edition of the ranking includes a PROMs implementation score based on the voluntary Patient-Reported Outcome Measures (PROMs) implementation survey conducted by Statista. The upcoming survey period for the PROMs implementation survey will begin in October 2023 and will be open for participation here. Pre-registration is available here.
Hospitals evaluated
5,000+
Medical professionals surveyed
Tens of thousands
Hospitals awarded
707 unique hospitals
A detailed report on our methodology for World's Best Specialized Hospitals 2024 is available.
Newsweek is an American news magazine and website that provides high-quality information to readers around the globe, reaching over 75 million people each month. First launched in 1933, Newsweek nowadays reports about topics in the fields of international issues, technology, business, culture and politics. The information channels reach from weekly published print editions in various countries to an online and mobile presence worldwide.