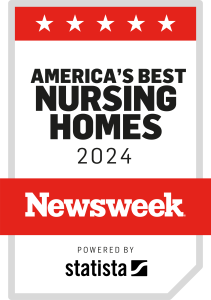 America's Best Nursing Homes 2024
The America's Best Nursing Homes 2024 ranking awards the nations leading nursing homes based on five data sources: (CMS) Data, National Online Surveys, Management of The Covid-19 Situation, Resident Satisfaction, and Accreditation Data.
Your facility belongs to the exclusive list of "America's Best Nursing Homes 2024" and is given the opportunity to license the official award logo. The package-options will help you to boost your marketing, HR, and communication strategy.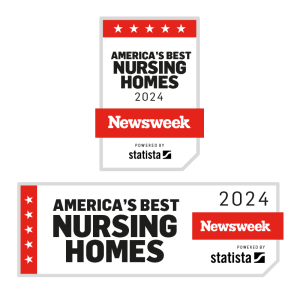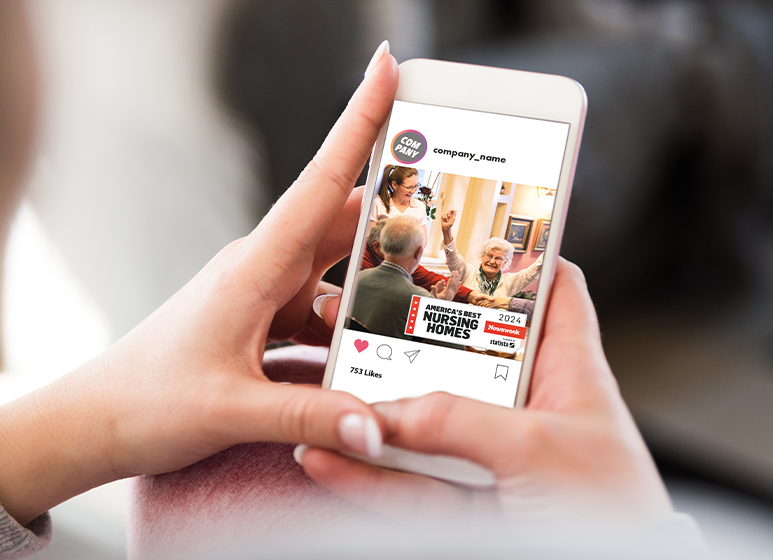 Social Media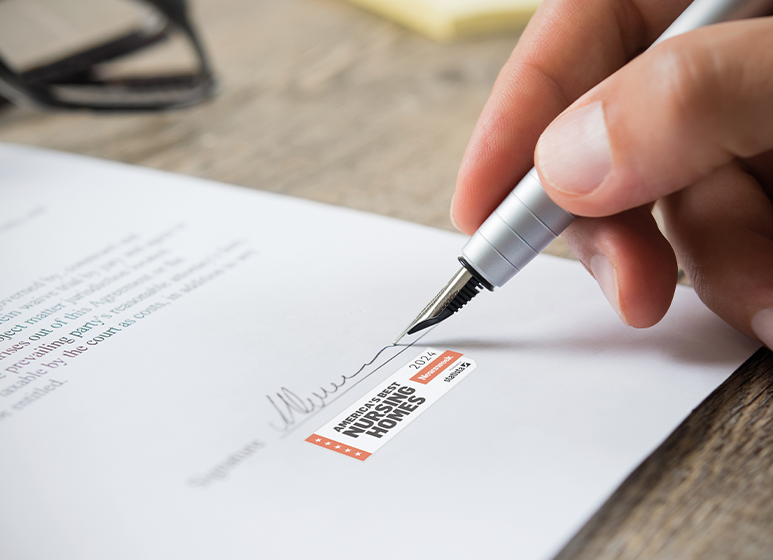 Recruitment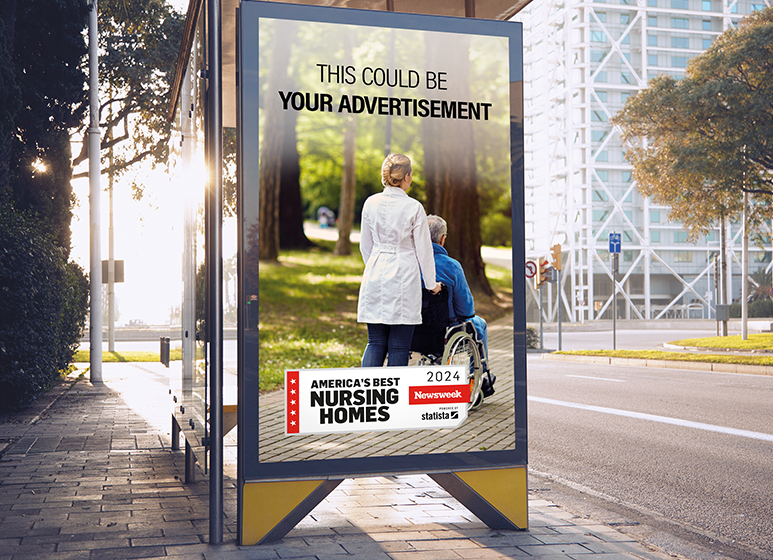 Marketing & PR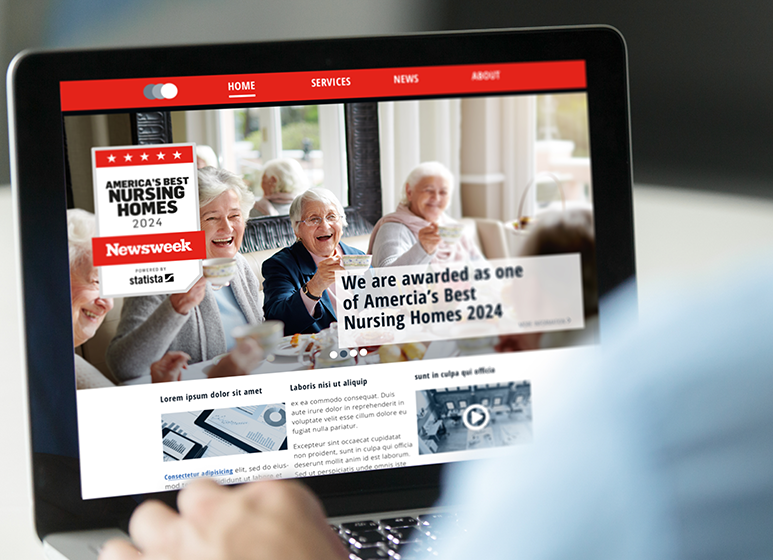 Investor Relations
Media Kit
This kit includes prepared graphics and artwork which support the immediate usage of the award in your marketing and communication campaigns.
Wallpapers & Backgrounds
Prepared backgrounds for your desktop and company mobile phone. The package also includes backgrounds for video meetings along with pre-designed social media posts and email signature graphics.
Social Media
Create momentum among your followers! Prepared artworks for Social Media (e.g. Facebook, Twitter and Instagram) for time-efficient usage of the award on your social media channels.
E-Mail Signatures & Web Banner
In order to use the logo immediately, the media kit contains a prepared artwork for signature strips and a web banner. This will help you to get even more frequency on the award-communication.
America's Best Nursing Homes 2024
The 5th edition of America's Best Nursing Homes 2024 ranking awards the nation's leading nursing homes.
Included are single branches of nursing homes with at least 100 certified beds that meet the pre-defined selection criteria: The nursing home had to achieve a threshold score for performance data and had to meet defined selection criteria based on their officially reported COVID-19 data. Nursing homes that are included in the Specialty Focus Facility (SFF) program were not considered. Nursing homes in the 25 states with the highest number of facilities, according to the Centers for Medicare & Medicaid Services (CMS), were included in the study.
Companies evaluated:
12,000+
Medical professionals surveyed:
Thousands of medical professionals
Companies awarded:
750 nursing homes

Concept
Five data sources were evaluated to identify leading nursing homes. Statista R conducted a national online survey of medical professionals to collect recommendations of the best nursing homes in the US. Centers for Medicare and Medicaid Services (CMS) data were used to determine the performance of nursing homes and the management of the Covid-19 situation. Furthermore National Patient Safety Goals from The Joint Commission (TJC) and Google reviews were included to determine the resident satisfaction. Accreditation data on nursing homes provided by TJC and Commission on Accreditation of Rehabilitation Facilites (CARF) were included.
Data Collection
From June to July 2023, thousands of medical professionals (registered nurses, nursing home managers and administrators, licensed practical nurses / licensed vocational nurses, nursing assistants, therapists and physicians) were invited to an online survey. Participants were asked to recommend the leading nursing homes from their respective state and in one of the other 25 US states included in the survey. For each recommended nursing home in their own state, participants were asked to assess the quality of: Management of the Covid-19 crisis, quality of care, accommodation & service and overall nurse staffing. The quality scale ranged from 1 ("Poor") to 10 ("Excellent").
Evaluation
The evaluation of nursing homes was based on a scoring model including five pillars: Performance data score (35%), Reputation score (35%), Covid-19 score (18%), Resident satisfaction score (7%) and Accreditations (5%). The performance data score considered the following three domains: staffing (40%), quality measures (36%) and health inspections (24%). The reputation score was calculated based on recommendations from medical professionals (60%), quality rating (20%) and Covid-19 rating (20%). To calculate the Covid-19 score the total resident confirmed Covid-19 cases (20%), total resident Covid-19 deaths (45%) and vaccination rate of staffing and residents (35%) were used. For the resident satisfaction score National Safety Goals from The Joint Commission (TJC) (60%) and evaluations from Google (40%) were used. The accreditation score incorporated available accreditations on nursing homes provided by TCJ (60%) and CARF (40%).
Newsweek is an American news magazine and website that provides high-quality information to readers around the globe, reaching over 75 million people each month. First launched in 1933, Newsweek nowadays reports about topics in the fields of international issues, technology, business, culture and politics. The information channels reach from weekly published print editions in various countries to an online and mobile presence worldwide.

Recognizing the Best
Statista R is dedicated to finding and recognizing the best in class with its independent approach to data collection and evaluation. Whether employer brands, law firms, management consultancies, e-commerce or products - each of our market analyses, rankings, top lists and ratings are produced completely independently and with sound methodology.