Methods & Data
Extensive studies with an independent methodological approach provide transparent and trustworthy results.
Methodological approach
Employee surveys conducted by Statista R are carried out independently of the organizations themselves. This reduces distorting effects that can arise from non-anonymous surveys (e.g. social desirability in response behavior). The focus on willingness to recommend and on general work-related questions also allows for comparability across heterogeneous sectors.
Data
Statista R conducts employer rankings in over 50 countries across the globe. Every calendar year, around half a million employees are asked to rate their own employers and other employers within the industries they work in. The independently administered surveys that are conducted for the rankings provide an important basis for the evaluations. In addition to the employee surveys, additional information and KPIs are collected for the eligible brands, which, depending on the ranking type, are also included in the scoring model. The detailed methodology for each ranking is shown on the respective project page.
Statista.com, the world's leading data and business intelligence portal, with 23 million unique users per month, 2,500,000 registered users and 23,000 corporate customers, offers statistics and business-relevant data.
1,000 visionaries, experts and makers constantly reinvent Statista and thus continuously work on developing new products and business models.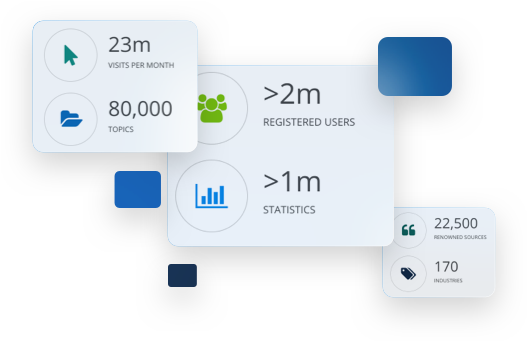 Recognizing the Best
Statista R is dedicated to finding and recognizing the best in class with its independent approach to data collection and evaluation. Whether employer brands, law firms, management consultancies, e-commerce or products - each of our market analyses, rankings, top lists and ratings are produced completely independently and with sound methodology.